Our Menus
W Cafe Menu
Early Start
Eggs Benedict
-
75
2 Poached Eggs, Choice Of Sliced Turkey Or Smoked Salmon, English Muffin, Hollandaise Sauce
Avo Tartine 
-
75
2 Poached Eggs, Crushed Avocado, Black Pepper, Roasted Tomato, Cilantro Cress
W Breakfast
-
80
2 Eggs Any Stlye, Labneh, Cucumber And Avocado Tartine, Roasted Capsicum, Black Olives
Egg Croissant
-
60
Croissant Filled With Scrambled Eggs, Roasted Tomato, And Baby Spinach
Shakshuka 
-
75
Baked Eggs With Spiced Tomato Concasse, Black Olive And Arugula
Spirulina & Banana Smoothie Bowl
-
47
Banana, Almond Milk, Spirulina Powder, Dragon Fruit, Puff Quinoa
Afternoon Tea
Afternoon Tea
-
130
Assorted Sandwiches, Scones, Homemade Pastries, With Choice Of Coffee Or Tea.
Coffee
Cafe Frappe/Matcha Frappe
-
47
Salted Caramel Latte
-
40
Creamy Biscuit Latte
-
40
Crunch & Carb's
Vegan Burger
-
80
Beyond meat burger patty, house made bun, cashew nut dressing and sliced avocado served with root vegetable chips (N,G)
Italian Grilled Chicken
-
77
Grilled Chicken, Mozzarella, Avocado, Fresh Herb Mayonnaise & Root Vegetables Crisp
Vegetarian Wrap
-
60
Whole Wheat Tortilla, Avocado, Jicama, Green Papaya, Red Onion, Jalapeno Pepper, Tomato, Wasabi Sesame Seed, Olive Oil & Root Vegetables Crisp
Club Sandwich
-
82
Smoked Turkey Or Grilled Chicken, Tomato, Lettuce, Fried Egg, Turkey Strip, Mayonnaise & Root Vegetables Crisp
Crepes 
-
52
Savory: Smoked Salmon And Dill Cream Cheese Or Turkey Breast & Cheddar Cheese Sweet: Choice Of Banana, Nutella, Strawberry, Honey
W Burrata Toast
-
60
Grilled focaccia, blistered cherry tomatoes, Italian burrata cheese.
Grilled Chicken with Citrus
-
75
Cauliflower Taboulleh Slow cooked chicken breast, citrus scented cauliflower and edamame puree (D)
Tuna Burger
-
92
Tuna, avocado, lettuce, radish cress, spicy yuzu mayo, sesame cream cheese coleslaw
Guilt free Chicken Burger
-
90
Chicken breast, Caramelized onion, avocado, mushroom, multi-seeds bread, sweet potato.
Light & Fresh
Poke Me Bowl
-
70
Roasted turmeric cauliflower, chicken breast, brown rice, edamame, cherry tomatoes, zucchini
Zucchini Carpaccio with Shrimp
-
45
Thin zucchini ribbons marinated in lemon olive oil, steamed shrimp and W vinaigrette (D)
Lentil Soup
-
60
Sourdough Croutons, Lemon Wedges
Salmon Cobb Salad
-
89
Cajun Salmon, Avocado, Goat Cheese Crumble, Cherry Tomatoes, Shaved Parmesan, Dijon Mustard Dressing
Vegan Bowl
-
75
Rainbow quinoa, sweet potato,kale, onion, chickpeas,ras el hanou spice, garlic,Tahini & pomegranate dressing
Salmon Poke Bowl
-
99
Sushi rice, salmon, spicy mayo, sesame, cucumber, edamame, radish, garlic ginger crumbs, Ponzu dressing
Spicy Tuna Poke Bowl
-
99
Sushi rice, tuna, spicy mayo, yuzu sesame, tobiko, seaweed, mango, cucumber, ginger pickle
We-Tox
Ultimate Green 
-
47
Celery, Kale, Green Apple, Lime, Lemon, Ginger
Tropical Carrot
-
47
Green apple, pineapple, carrot, ginger
Citrus Pear
-
47
Lime, red apple, cucumber, pear, radish
Beet Apple
-
47
Beetroot, Green Apple, Blackberries, Ginger
Power Boost
Smoothie & Shake
Green Mean
-
45
Almond Milk, Avocado, Spinach, Dates, Banana, Greek Yogurt
Chuck Berry
-
Soy Milk, Strawberry, Blueberry, Blackberry, Dates, Banana, Greek Yogurt
Berry Blast
-
45
Vanilla Whey Protein, Banana, Blackberry, Peanut Butter
Banana Nuts
-
45
Vanilla Whey Protein, Banana, Peanut Butter, Oatmeal
Groove Move
-
45
Vanilla Whey Protein, Banana, Oatmeal, Peanut Butter, Chia Seeds, Cacao Powder, Almond Milk
Juices
Young Touch
-
45
Orange & Lemon Juice, Banana, Ginger, Honey
Morning Kick
-
45
Pineapple, Ginger, Mint
Popeye
-
45
Green Apple, Orange, Ginger
Tropical Splash
-
45
Banana, Strawberry, Mango Juice
(A) Contains Alcohol (D) Contains Dairy (N) Contains Nuts (S) Contains Shellfish (V) Vegetarian (G) Gluten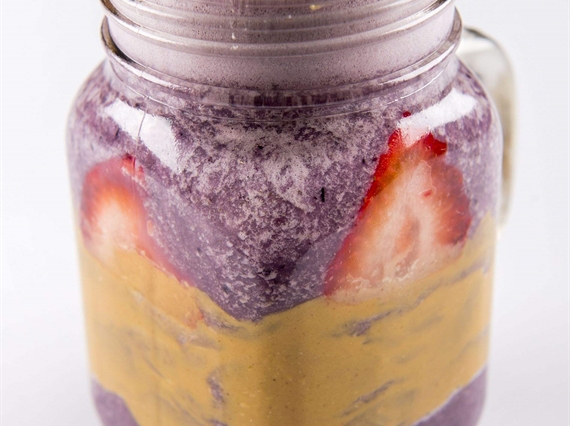 Berry Blast
Vanilla Whey Protein . Banana . Blackberry . Peanut Butter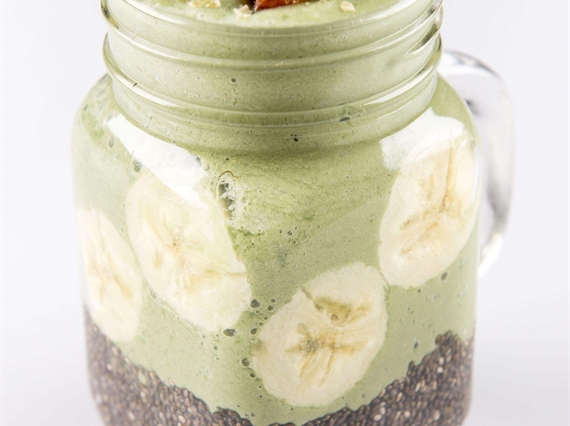 Green Mean
Almond Milk . Avocado . Spinach . Dates . Banana . Greek Yogurt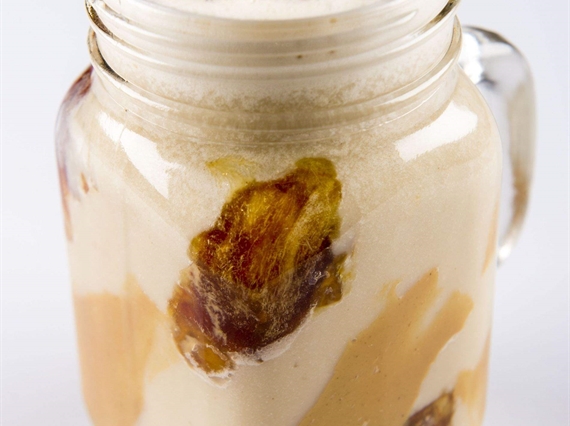 Banana Nuts
Vanilla Whey Protein . Banana . Peanut Butter . Oatmeal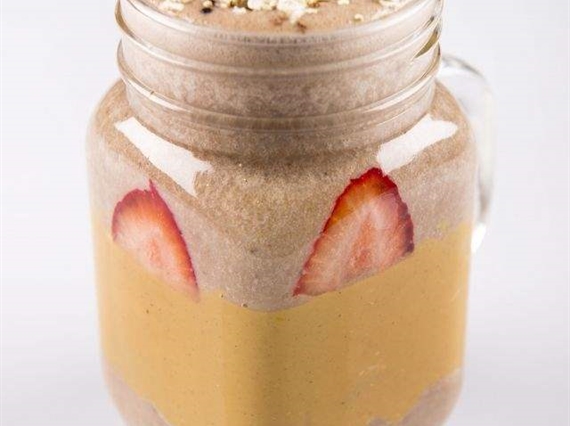 Groove Move
Vanilla Whey Protein . Banana . Oatmeal . Peanut Butter . Chia Seed . Cacao Powder . Almond milk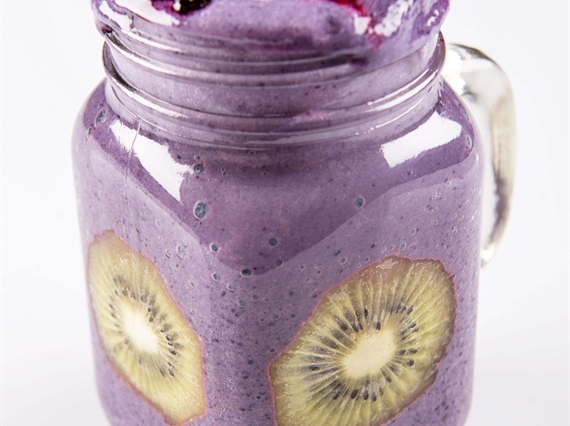 Chuck Berry
Soya Milk . Strawberry . Blueberry . Blackberry . Dates . Banana . Greek Yogurt