Our Menus
W Cafe Menu
BREAKFAST I 7-11 AM
Early Risers - Promotion!
-
60
Rise & shine before 9am! Grab an early W Breakfast and coffee, and enjoy our special Early Risers price
Crepes or Pancakes (D)
-
68
Your choice of Savory or Sweet! Savory: smoked salmon, dill cream cheese Sweet: mixed berries compote, whipped cream, pistachios, maple syrup
French Toast
-
68
Babka bread, pistachio ogret, caramel sauce, vanilla ice cream
Crispy Chicken Waffles
-
65
Karaage chicken, mixed berries, maple syrup
EGGS
W Breakfast (D, G, V)
-
80
2 eggs your style, labneh, black olives, cucumber & avocado tartines
Eggs Benedict (G)
-
75
2 poached eggs, choice of turkey or smoked salmon, English muffin, hollandaise sauce
Egg Croissant (D, G)
-
60
Croissant filled with scrambled eggs, roasted tomato, baby spinach
Shakshuka (D, G, V)
-
75
Baked eggs with spiced tomato, concassee, black olive & arugula
A LITTLE EXTRA
Beef or Chicken Sausage
-
20
Slice of Sourdough Bread
-
15
HEALTHY BOWLS
Holy Grains (VG, D, N)
-
52
Homemade granola, yoghurt, seasonal fruits, honey
Acai Bowl (VG, D, N)
-
65
Dragon fruit, mango, banana, acai, homemade granola, flaxseeds, chia seeds, goji berries, coconut
SALADS
Salmon Cobb Salad (D)
-
89
Cajun salmon, avocado, goat cheese crumble, cherry tomatos, shaved parmesan, dijon mustard dressing
Caesar Salad (G, D)
-
68
Grilled baby gem lettuce, roast chicken fillet, black olive powder, parmesan, persillade, caesar dressing
Kale Salad (VG, D, N)
-
68
Kale, asparagus, walnut, blueberry, pomegranate, avocado, pumpkin, pistachio sauce
W Buratta Salad (G, D)
-
75
Buratta, charred peaches, pistachio ogret, mesclun leaves, mixed berries, balsamic
POKE BOWLS
Salmon Poke
-
78
Salmon, sushi rice, edamame, togarashi, seaweed, pickled onion, cucumber, avocado, sesame seeds, goma dressing
Beef Poke
-
75
Beef strips, sushi rice, mesclun leaves, pickled red onion, cucumber, cherry tomatoes, red chili, radish, nori, pickled pineapple
Falafel Poke
-
65
Beet moutabal, tahini sauce, avocado, cucumber, quinoa, pumpkin seeds, tomatoes, olives, tahini sauce
SANDWICHES
Bagel DIY
-
55
Your Choice: Whole Wheat or The Everything | Spread Your Way - select one: Sundried Tomato Cream Cheese, Plain Cream Cheese, Blueberry Labneh, or Peanut Butter | Your Choice of Perfection: Smoke Salmon, Beef Bresaola, Avocado, Turkey Ham & Swiss Cheese, or Beef Strips & Swiss Cheese
Italian Grilled Chicken Sandwhich (D, G)
-
77
Grilled chicken, mozzarella, avocado, tomato, lettuce, fresh herbs mayonnaise
TARTINES
Avocado Smorrebord (G,D)
-
67
Mashed avocado, feta cheese, olives, tomato
Salmon Tartine (G, D)
-
65
Puff pastry, smoked salmon, cream cheese, avocado, red onion, dill capers
WRAPS
Spicy Chicken Wrap (D, G)
-
65
Buffalo chicken fingers, mixed greens, mozzarella, pickles, ranch dressing
Haloumi Wrap (D, G, VG)
-
55
Avocado, olives, lettuce, cucumber, pomegranate, tahini sauce
BURGERS
Vegan Burger (N, G, VG)
-
67
Beyond Meat burger patty, multigrain bun, cashew nut dressing, sliced avocado, pineapple & date relish
Cheddar Boss Burger (G, D)
-
82
Cheddar sauce, black angus patty, pickles, lettuce, tomato, onion, cheese
Executive Chicken Burger (G, D)
-
68
Crispy chicken, honey mustard coleslaw
IN PASTA, WE TRUST
In Pasta, We Trust
-
85
Choice of 1 Pasta: Penne, Orecchiette, or Fettucine | Choice of 1 Sauce: Tomato, Cream, Pesto, or Pink Sauce | Choice of 2 Vegetables: Peppers, Mushrooms, Onion, Garlic, or Tomatoes | Choice of 1 Protein: Chicken, Prawns, or Lobster
SIGNATURE DESSERTS
Warm Chocolate Chip Joy
-
65
Freshly baked soft cookie, vanilla ice cream, warm caramel & chocolate sauce
Sizzling Ever After Date Pudding
-
60
Warm soft date pudding, creamy caramel sauce, vanilla ice cream, mixed nuts
Chocolate Heaven
-
55
Nutella sponge cake, layered with chocolate ganache, covered with a chocolate glazing, white, milk, and dark chocolate sauces poured over
Mille-Feuille
-
35
A "thousand sheets" in French, composed of three layers of light as air puff pastry. Enjoy in either strawberry or hazelnut flavours.
W Cafe Beverages Menu
SPECIALITY COFFEES
Bukit Sama Roast
-
Honey processed with notes of melon, hazelnut, and cane sugar
Full City Roast
-
Chocolatey, fruity, nutty
Dark Meld Roast
-
Caramel, cocoa, blueberry
Milk Varieties
-
5
Oat Milk, Almond Milk, Coconut Milk, Soya Milk
Sweet Flavors
-
5
Vanilla, Hazelnut, Caramel, Honey
Turn it Spanish
-
10
Add, for a Spanish Latte!
Bukit Sama or Dark Meld - Black Coffees
-
38
Double Espresso, Ristretto, Lungo, Americano, French Press, Cortado, Macchiato
Full City Roast - Black Coffees
-
32
Double Espresso, Ristretto, Lungo, Americano, French Press, Cortado, Macchiato
Bukit Sama or Dark Meld - Coffees
-
40
Cappuccino, Flat White, Latte
Full City Roast - Coffees
-
35
Cappuccino, Flat White, Latte
LUXURIOUS TEAS
Teas
-
35
Green Tea Curl, Royal Breakfast, Earl Grey Flora, Jasmine Haze, Verbana Mint
1001 Nights
-
45
Black tea, rose petals, orange flowers
Royal Darjeeling
-
45
Black tea leaves
Chamomile Breeze
-
45
Hibiscus, mint, rosehip, lemongrass, orange peel, chamomile
Fresh Ginger Tea
-
45
Ginger, honey, lemon juice
ShapeUp! Tea
-
45
Cayenne pepper, ginger, cinnamon, honey, lemon juice
DAILY ELIXIR
Zen Shot
-
15
60ml. Your small secret. Carrot, ginger, nutmeg, orange, blueberries
Detox Your Way
-
15
60ml. Your small secret. Green apple, baby spinach, celery
Immunity Kick
-
15
60ml. Your small secret. Ginger, lemon, pineapple
New Day, New Me
-
15
60ml. Your small secret. Beetroot, red apple, pineapple, lemon, ginger, carrot
Fire Dance
-
15
60ml. Your Small Secret. Pineapple, ginger, cayenne
FRESHLY BLENDED
Green Me Up
-
60
Celery, kale, green apple, lime, lemon, ginger
Unbeetable
-
60
Beetroot, blackberries, green apple, ginger
Tropical Fuel
-
60
Carrot, pineapple, green apple, ginger
Younger
-
60
Orange, lemon, banana, honey, ginger
SMOOTHIES
Powerful Green
-
60
Avocado, spinach, dates, banana, Greek yoghurt, almond milk
Berry HIIT
-
60
Blackberries, banana, peanut butter, vegan protein
Chocolate Ambition
-
60
Cocoa powder, vanilla protein, peanut butter, chia seeds, banana, almond milk
Peanut Butter Groove
-
60
Peanut butter, vanilla protein, oats, banana
DRINKS ON ICE
Fresh Juices
-
35
Orange, Carrot, Pineapple, Watermelon
Sodas
-
30
Pepsi, Diet Pepsi, 7Up, Ginger Ale, Miranda, Mountain Dew, Red Bull
330ml Evian
-
30
Still or Sparkling
750ml Evian
-
40
Still or Sparkling
Freshly Made - Detox Water
-
50
MOCKTAILS
Roseberry Mint Mojito
-
35
Strawberries, rose water, lemon, mint, soda water
Lemon Mint
-
35
Fresh lemon juice, mint, crushed ice, sugar syrup
Classic Mojito
-
35
7Up, lime, lemon, mint, sugar syrup
ICED TEAS
Hibiscus Passion
-
45
Black current infused hibiscus tea, passionfruit lemonade, strawberries
Earl Passion
-
45
Earl grey tea, passion fruit lemonade, lime wheels, passionfruit pulp
(A) Contains Alcohol (D) Contains Dairy (N) Contains Nuts (S) Contains Shellfish (V) Vegetarian (G) Gluten
Berry Blast
Vanilla Whey Protein . Banana . Blackberry . Peanut Butter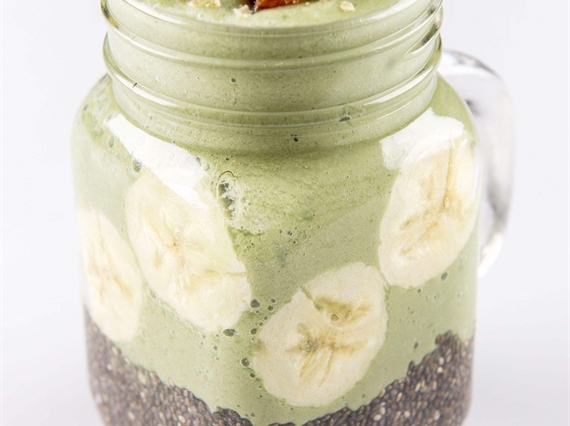 Green Mean
Almond Milk . Avocado . Spinach . Dates . Banana . Greek Yogurt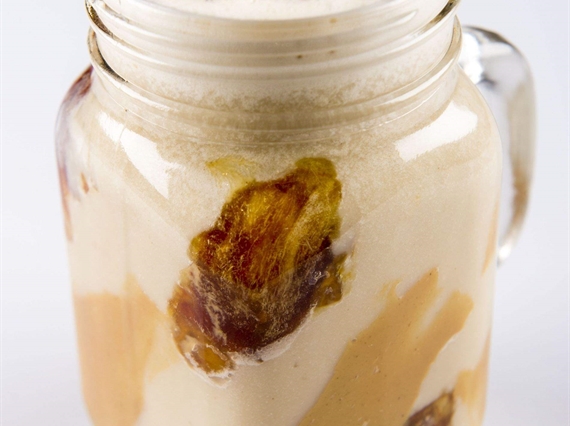 Banana Nuts
Vanilla Whey Protein . Banana . Peanut Butter . Oatmeal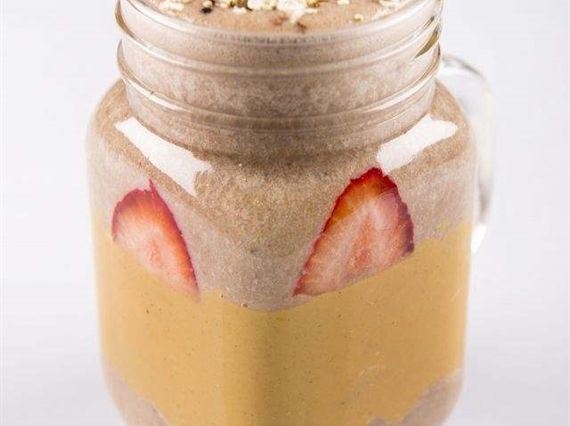 Groove Move
Vanilla Whey Protein . Banana . Oatmeal . Peanut Butter . Chia Seed . Cacao Powder . Almond milk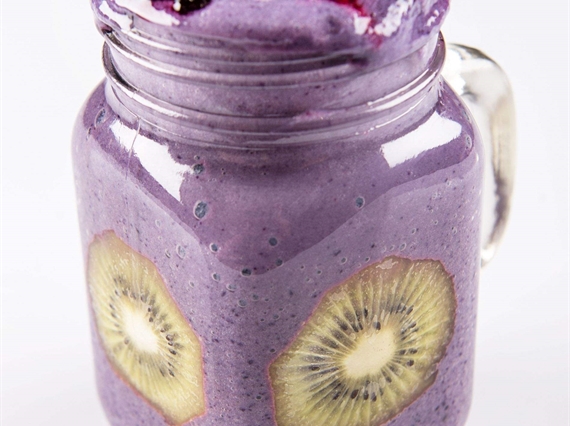 Chuck Berry
Soya Milk . Strawberry . Blueberry . Blackberry . Dates . Banana . Greek Yogurt